Is eSIM Available in Indonesia? Benefits, Challenges, and Recommendations for Tourists and Expatriates
Learn more about using eSIMs in Indonesia, how to get them, what benefits they offer, and how we can help. Discover more with MobiMatter.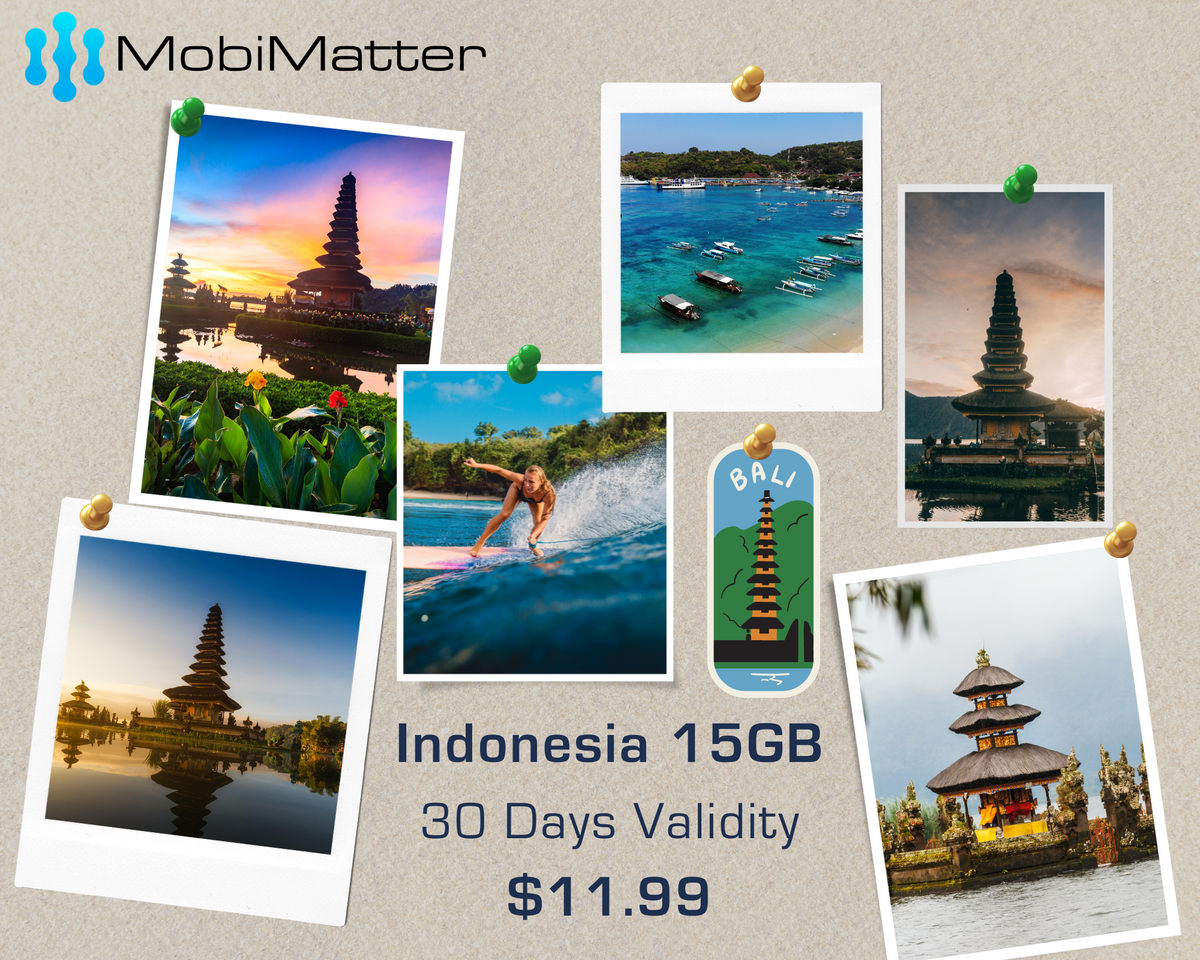 The Indonesian archipelago is a vast expanse of islands, offering countless opportunities for exploration. It's home to numerous distinct native ethnic and linguistic groups, an abundance of diverse flora and fauna, and breathtaking natural landscapes. Besides these, Indonesia provides plenty of compelling reasons to visit, making it a destination worth experiencing in your lifetime.
While there, staying connected seamlessly is essential for a hassle-free and enjoyable experience. So, then comes the question: is eSIM available in Indonesia? Let's find out more.
Is eSIM Available in Indonesia?
You might be wondering: "Is eSIM Available in Indonesia?" MobiMatter's eSIM ensures continuous connectivity throughout your travels in Indonesia. You won't have to search for local telecom providers or deal with the complexities of obtaining a physical SIM card. With MobiMatter, accessing reliable data, voice services, and the latest eSIM technologies in Indonesia has never been easier.
How To Get eSIM In Indonesia?
We offer you a hassle-free eSIM experience. Here's a quick rundown of how to set up and kick-start your eSIM to discover Bali, Jakarta, and more incredible locations.
Start by downloading the MobiMatter app.

Select the eSIM package that suits your needs through the app or MobiMatter's website.

Once you've completed the purchase, scan the eSIM QR code and follow the provided profile download instructions.
Alternatively, you can manually enter the activation code in your phone's settings if you prefer not to scan the QR code.
With your eSIM profile set up, switch your mobile data usage from the physical card to the eSIM in your phone's settings.
Note: Remember to turn on data roaming for the eSIM.
Turn off your WiFi connection and wait briefly to allow your device to activate the eSIM properly by sending the necessary signals to the operating system.
The Benefits Of Using eSIMs When Travelling
eSIMs offer various advantages over standard SIM cards that you may not have considered before. These include:
Easier Activation
Activating eSIMs is easier than activating new physical SIM cards. With physical SIM cards, the SIM card must be manually placed in the correct position to activate it. You will also need a SIM ejector pin to open the phone's SIM card slot. Accidental or incorrect insertion of the SIM card can damage it. On the other hand, eSIMs can be activated by scanning a QR code.
Scanning the QR code will register your eSIM to your mobile network; it takes only 15 minutes. While activating your physical SIM card may take some more time.
Switch Between Networks in a Few Taps
You can store multiple network profiles on one eSIM. This feature eliminates the need for users to transfer and import multiple physical SIM cards on demand. Now, you can simply switch to another network in your phone's network settings.
Efficient For Traveling Personnel
If you travel abroad for business or pleasure, eSIM technology is a boon. Your eSIM allows you to switch to a local provider on the go. You don't need to buy a new physical local SIM card to stay connected whenever you visit a new country or destination. It saves you a trip to a telecom store to activate your old SIM card or buy a new one. Just use your phone to hop on to the local network.

Keep in mind that you also don't need to permanently deactivate and disable your current accounts. So you can keep your other phone lines and stay connected wherever you go.
Enhanced Design
With the eSIM technology, manufacturers and users can both enjoy significant advantages. Manufacturers can enhance the device design and features by eliminating the need for a separate slot. At the same time, users can access additional features and functionalities such as increased battery capacity, a faster processor, and better protection against water and dust.
Greener Choice
In line with Indonesia's dedication to preserving its natural beauty, choosing an eSIM is a sustainable option. It reduces waste from plastic cards and packaging, aligning with the country's eco-friendly values while offering modern convenience.
Accessibility
You can buy eSIMs online, anywhere, anytime, including during your trip to Indonesia.
But what are the pitfalls of considering eSIMs? Let's discuss them!
Compatibility Restrictions
While eSIM technology is not yet supported by all mobile devices, it is becoming increasingly popular, and many newer models now include eSIM capabilities. Users must confirm device compatibility before switching to eSIMs to ensure a smooth and hassle-free transition. This will allow them to enjoy the convenience and flexibility that eSIMs offer without any unexpected problems.
Potential Technical Issues
When using eSIMs, troubleshooting and technical difficulties may arise. However, with MobiMatter's eSIM packages, customers can access 24/7 customer support.
Stay Connected with MobiMatterFor those asking, "is eSIM available in Indonesia?" MobiMatter is your answer. MobiMatter operates as an online intermediary and distributor of mobile telecommunication services. Our mission is to assist users in exploring, comparing, and acquiring top-notch mobile plans from our partner telecom operators worldwide.