Unveiling the Top Destinations in Europe for eSIM Connectivity
Unveiling the Top Destinations in Europe for eSIM Connectivity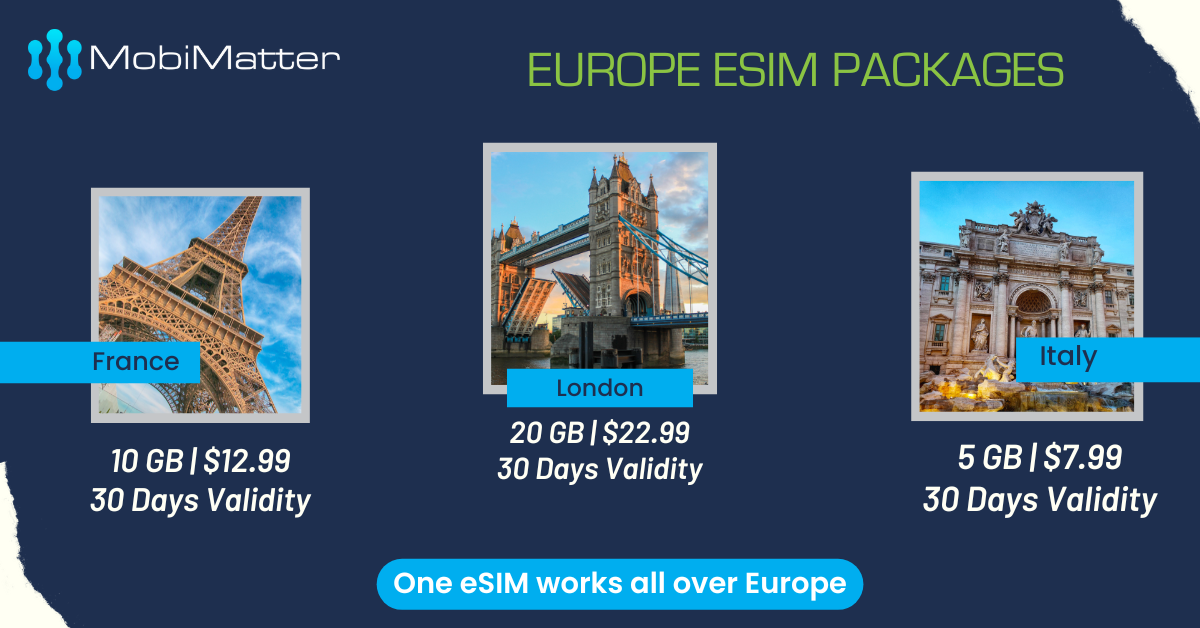 Europe, a continent steeped in history, culture, and breathtaking landscapes, has long been a favourite destination for travellers worldwide. But navigating this vast continent can be challenging, especially when staying connected across multiple countries and cities (from the islands of Greece to the energy of Berlin, and more).
That's where eSIM technology comes in, offering seamless connectivity across borders. Here, we explore the top destinations in Europe, highlighting their unique attractions and how eSIM connectivity can enhance your travel experience.
Paris, The Heart of France
Paris, often called the 'City of Light', is a treasure trove of iconic landmarks, world-class museums, and culinary delights. The Eiffel Tower, the Louvre Museum, and the Champs-Élysées (the home of Paris' top designer shops) are just a few highlights that make Paris one of the top destinations in Europe.
While exploring the city's rich history and vibrant culture, staying connected can enhance your experience. Share your sightseeing adventures and culinary discoveries, or navigate the city's charming streets and churches easily, thanks to eSIM technology.
Remember to visit the popular monuments, like the Luxembourg Gardens, a green oasis in the heart of the city, perfect for a leisurely stroll or a picnic. And a trip to Paris would not be complete with indulging in a French meal at one of the city's many Michelin-starred restaurants (offering delicious European and French cuisine).
Rome, Italy's Eternal City
Rome, the capital of Italy, is a city that lives and breathes history. From the ancient Colosseum and Roman Forum ruins to the artistic masterpieces in Vatican City, Rome is a feast for the senses.
As you wander through the city's historic streets, eSIM connectivity can be your digital companion, helping you navigate, share your experiences, or learn more about the city's rich history. Stay constantly connected when shopping, eating, and enjoying the best of Rome.
Venture beyond the usual tourist spots and explore the charming neighbourhood of Trastevere or take a leisurely stroll up the Spanish Steps. To wrap up your trip to one of the best cities in Europe, don't forget to toss a coin into the Trevi Fountain; a tradition said to ensure your return to Rome.
Quick Tip: Take a day trip to Vatican City in the heart of Rome! Make sure to visit St. Peter's Basilica to bask in its glory, and the Sistine Chapel to admire the frescos of popular Renaissance artist, Michelangelo.
The Swiss Alps, A Winter Wonderland
The Swiss Alps are a haven for outdoor enthusiasts. Whether skiing, hiking, snowboarding or simply soaking in the stunning scenery, this region offers a unique blend of adventure and tranquillity.
With eSIM connectivity, you can share your alpine countryside adventures, track your hiking routes, or stay connected with loved ones back home while immersing yourself in the beauty of the Swiss Alps.
Explore the picturesque towns of Zurich, Bern, and Basel, each offering a unique blend of Swiss culture and Alpine charm. And remember to indulge in Swiss chocolate or cheese fondue, a must-try in Switzerland.
London, England's Historic Metropolis
London, a city where history and modernity coexist, offers diverse experiences. London has something for everyone, from the historic Tower of London and the British Museum to the vibrant West End district with its incredible theatres and culinary delights like fish and chips.
Staying connected in this bustling metropolis is essential, whether for navigating the city, making restaurant reservations, or sharing your experiences. With eSIM technology, you can do all this and more, making your London adventure a breeze.
Stroll along the River Thames, admire the majesty of Buckingham Palace, or enjoy a traditional English Breakfast. With an eSIM, you can share these quintessential London experiences with friends and family back home.
Amsterdam, The Netherlands' Cycling City
Amsterdam, with its network of canals, historic buildings, and vibrant culture, is a city like no other. Known for its cycling culture, Amsterdam offers a unique way to explore the city.
As you cycle through the city's picturesque thoroughfares, eSIM connectivity can help you navigate, learn about the city's history, or share your unique experiences, making your Amsterdam adventure memorable.
Visit the Van Gogh Museum, take a boat tour of the canals, or enjoy a leisurely lunch in Vondelpark. With eSIM, you can share these experiences in real-time, making your trip to Amsterdam even more enjoyable.
Barcelona, Spain's Architectural Marvel
Barcelona, known for its unique architecture and vibrant culture, is a must-visit destination in Europe. The city's landmarks and exhibits, such as Park Güell and Basilica de la Sagrada Família, showcase the genius of Antoni Gaudí, making Barcelona a top destination in Europe.
With eSIM connectivity, you can easily navigate the city's bustling streets, learn about its rich history, and share your experiences. Whether exploring the Gothic Quarter or relaxing on La Barceloneta beach, an eSIM ensures you stay connected (especially in navigating the winding alleys).
Florence, Italy's Renaissance Jewel
Florence, the birthplace of the Renaissance, is a city rich in art, culture, and history. From Michelangelo's David in the Galleria dell'Accademia to the stunning views from Ponte Vecchio, Florence will captivate you.
As you explore this Italian getaway, eSIM connectivity can enhance your experience. Share your discoveries, navigate the city's historic streets, or learn more about Florence's rich history with ease.
Prague, The Czech Republic's Fairy Tale City
With its stunning Gothic architecture and fairy tale atmosphere, Prague is akin to an enchanting fairy tale. From the historic Old Town Square to the majestic Prague Castle, this city is a treasure trove of sights and experiences.
With eSIM connectivity, you can easily navigate the city, learn about its rich history, and share your experiences. Whether strolling across Charles Bridge or exploring the city's greenery, eSIM ensures you stay connected.
-
Exploring these top destinations in Europe is made more accessible and more convenient with eSIM technology. Make sure to learn more about the eSIM packages for Europe before you fly away to these magical places. Safe travels!